Hosted by Michael Sharp & Erik Alanson
---
Listen to Episode 9 of the Experience Magazine™️ Podcast with Ross Johnston of the University of Waterloo in Waterloo, Ontario.
About Ross Johnston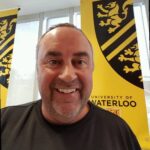 As the Executive Director, Co-operative Education, Ross is accountable for ensuring an effective and appropriate, quality work integrated learning journey for students at the University of Waterloo (23,500 co-op enrolled students). He also ensures Co-operative Education meets and exceeds co-op employment rates, while maintaining and enhancing employer relationships with over 7,100 organizations across more than 65 countries. To achieve these objectives, Ross oversees the evolution of best practices and continuous improvement of the co-op experience for students and employers. To ensure academic integration and learning outcomes within the pedagogical model of co-operative education, Ross manages the ongoing faculty and campus partnerships.  
Ross joined the University of Waterloo in 2009 as Director, Employment Relations before becoming the Executive Director in 2017. Previous roles include Director of Attraction & Retention with MTS Allstream, founder of a talent management and career advice consultancy and CIBC Senior Director of Recruitment Operations across all divisions globally.   
Prior to living in Canada, Ross was Head of Training & Development for a UK financial institution. Ross has extensive experience in Recruitment, Strategic HR, Change Management, Sales and Business Development and has an Executive MBA from Bradford University's School of Management in the UK.   
Ross has been a regular participant and presenter at CEIA conferences and has been a board member since 2017, where he currently serves as the Vice President, Global Network. In June 2019, Ross was named President for Experiential & Work Integrated Learning Ontario (EWO) and is also a current board member of Co-operative Education and Work Integrated Learning (CEWIL) Canada.