Hosted by Michael Sharp & Erik Alanson
---
Listen to Episode 8 of the Experience Magazine™️ Podcast with Dr. Ralph Brigham of Southwestern Advantage in Nashville, Tennessee.
About Dr. Ralph Brigham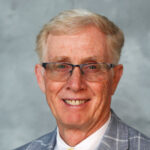 Dr. Ralph Brigham is the Global Director of Campus Relations for Southwestern Advantage.  For the past 19 years he has been in charge of the company's relationships with over 200 universities in North America, Europe and Asia. Prior to his work at Southwestern Advantage he was the Director of Career Services at Montana State University-Bozeman for almost 20 years. He also has held positions as Director of Admissions, Registrar, Student Activities Coordinator and Guidance Counselor. Dr. Brigham earned his doctorate in Higher Education Administration from Montana State University. 
Ralph has been invited to speak to students at universities across the United States and in France, England, Estonia, Poland, Czech Republic, and Kazakhstan. In addition, he has visited over 200 universities and traveled to 41 countries on 5 continents.  
Ralph has served as the president of the National Association of Colleges and Employers (NACE), which connects about 13,000 careers center and campus relations and recruiting professionals.  And, in 2013 he was inducted into the NACE Academy of Fellows, the organization's highest honor.   
He is currently serving as Professional Vice President on the National Council for Pi Sigma Epsilon, the professional sales fraternity.  
In 2020 Dr. Brigham was elected Vice President for the Employer Network of Cooperative Education and Internship Association (CEIA). And, in 2019 he and Southwestern Advantage were named the Charles F. Kettering outstanding internship in North America.  
Ralph is a certified life coach and works with students and professionals in topics like finance, career, health and wellness, but he most likes to help them in developing habits for life success.