Molly Chase // Northeastern University 
---
Abstract
This feature aims to highlight the positive experiences students at Northeastern University had while adjusting to online work while on co-op, during which students take a semester to work full-time to gain real-world experience in their industries. The goal is to showcase a range of experiences at difference companies and share the agility and flexibility of our students, who were able to embrace the challenge and make the most of an uncertain situation.  
Moving Co-op Online
The impact of the COVID-19 pandemic on higher education is profound – and will continue to reverberate for months to come. Cooperative (co-op) education, the cornerstone of Northeastern University's curriculum, is just one area that – through forced changes due to the stay-at-home orders – challenged students to adapt, pivot, and regroup in ways they could never have anticipated. Many students went from heading into an office each day and interacting with their colleagues and managers in-person, to suddenly being required to work from home, a skill that can even take experienced full-time employees some practice and adjusting to master. And while transitioning to a completely online working arrangement was certainly a major shift, many Northeastern University College of Arts, Media and Design (CAMD) students who were on co-op this past spring, during the peak of the pandemic, embraced the opportunity to dive into new ways of collaborating, learning, and working in a digital setting. This ability to adapt quickly and exhibit such flexibility underscores the professional nature and commitment of Northeastern University students and co-op employers.  
CAMD caught up with some of its students who moved their co-op positions online, in diverse industries — from media companies to architecture studios.  
Meet the Students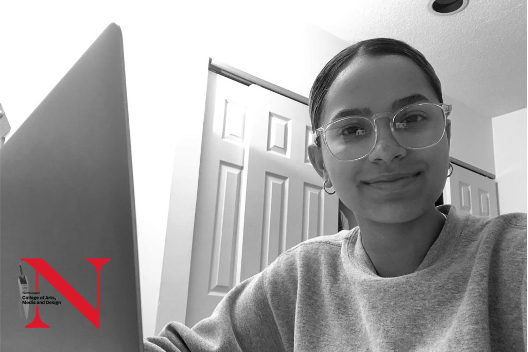 Kaela Anderson is a Journalism and Interaction Design student at Northeastern University's College of Arts, Media and Design (CAMD), who spent the spring working in Advertising Creative Services at The Boston Globe. Working under Boston Globe Media's "Brand Lab" team, Kaela was responsible for creating and editing copy for sponsored content, as well as creating layout designs before articles launch. Her role, like most jobs across the country and globe, went completely online during the pandemic.
"Generally speaking, my co-op has remained pretty much the same as it did when I was still coming into the office," said Kaela. "Working remotely definitely has its ups and downs. I'd say I enjoy working in the comfort of my own home – and I'm saving a lot of money not buying lunch all the time… I've been trying to create a routine for myself so that the days don't all just blend into one. I'll give myself time to decompress after work like I normally would before I jump into a workout and cook dinner for myself!"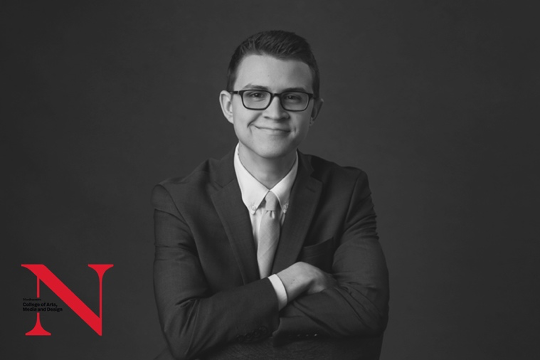 Sully Barrett is a Media & Screen Studies student in Northeastern University's College of Arts, Media and Design (CAMD), who worked with the Breaking News Desk and Strategic Content Teams at CNBC. In both departments, Sully had the opportunity to participate in every stage of the news cycle — from concept to creation to critique. After going fully online, Sully was still able to contribute valuable work to both departments and stay connected every day.
"Fortunately, I am still able to contribute value to both my teams at CNBC in a number of ways," Sully explained. "I pitch, write and collaborate on stories for CNBC.com, interviewing sources via phone and video calls. I assist with various research projects, such as CNBC's Disruptor 50 list of companies breaking up tradition in their respective industries. Although I miss working with my teams face-to-face, we're able to connect at a moment's notice, and we keep in touch every day. Overall, I'm very privileged to be employed in a safe environment, and I am extremely grateful to the people putting themselves at risk to support those without this privilege…. I am motivated by knowing that we will learn and grow from this situation."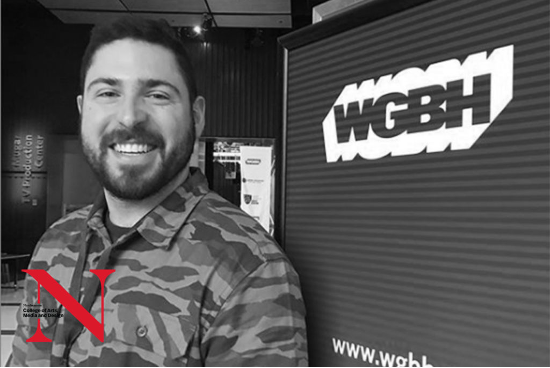 Joshua Sullivan is a graduate student in Northeastern University's School of Journalism. He spent his spring on co-op as a researcher for the WGBH media critique show Beat the Press. In this position, his main responsibility was to make sure no stone was left unturned in the package as his team worked together to compile several stories about media coverage each week. He worked on gathering research notes and searches for video clips and other media that pertain to the topic that week.
"It's been a pretty easy transition online. I was definitely one of the last interns to stop working in the office, and I really didn't want to, if I could help it. I'd still much rather prefer to be in the office, in the thick of things, but that's just not a possibility right now," said Joshua.  "I just feel as if the importance of our show only increases during a pandemic. Media outlets will continue to put out good journalism and bad journalism, and it's our show's job to hold everyone accountable."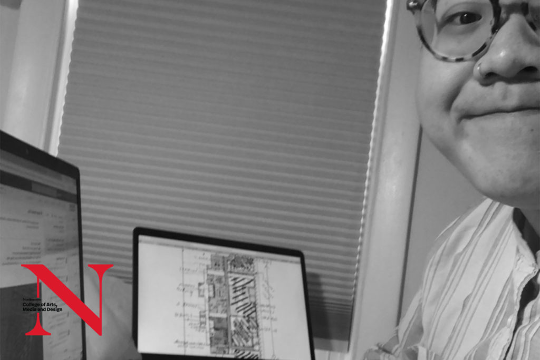 Sebastian Yan, an undergraduate Architecture student in Northeastern University's College of Arts, Media and Design (CAMD), spent his second co-op as an Architect Assistant at New York City-based Handel Architects. There, he had the opportunity to work with experienced team members who were eager to welcome and on-board him, and help him navigate a fast-paced, incredibly demanding role. Since moving online, this support and two-way communication has remained strong, and Sebastian continued to learn from his colleagues and contribute to projects effectively.
"The three months that I was physically working in the office, I was constantly moved between teams, helping out everyone that had a deadline coming. While it was nice to get to know my colleagues, the work can get rather repetitive. I have been able to stick with one team since the working from home started. Now, not only do I get to work on all different aspects of design, but I've gotten to better understand the actual process before a design is finalized," described Sebastian. "The biggest fear that I had before I started working remotely was the lack of communication that might occur during this time. I can no longer walk directly to my coworker's desk and surely I have a lot to ask. This fear did not come true. The two daily meetings we have are making the communication between teammates a lot better and smoother, and even the responses you get are faster because we all understand it takes more effort now to make our project better."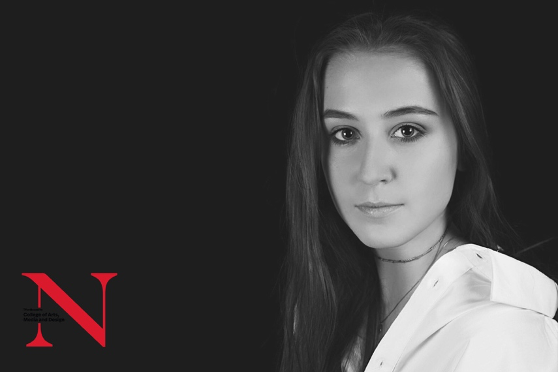 Journalism senior Sofiya Kryvych, who is an international student from Ukraine, recently completed her second co-op at Wayfair as a Video Editor. This position helped her navigate a field – production and entertainment – that she hopes to pursue after graduation. When her co-op moved online, Sofiya had to adjust to new workflows, but was able to stay creative and busy with new projects on-the-job.
"As we started working from home, I was worried that it would heavily affect our whole creative team and especially post-production, since most of our work depends on whether we are shooting new material. But luckily, even though our workflow has changed, we still have a lot of ideas to execute and a lot of projects to work on," said Sofiya. We've changed our messaging to better address the current situation in the world and help our customers feel comfortable at their homes during these difficult times. Now as we are limited in terms of shooting new material, we are using more graphics and animation for our videos, and also using some of our old material and repurposing it, addressing the current needs of the customers…For those of us on co-op right now, I think we should really focus on our experience and the ways to get the most of our co-ops. Working for a company, big or small, and seeing how it operates in times like these is a huge learning opportunity for all of us."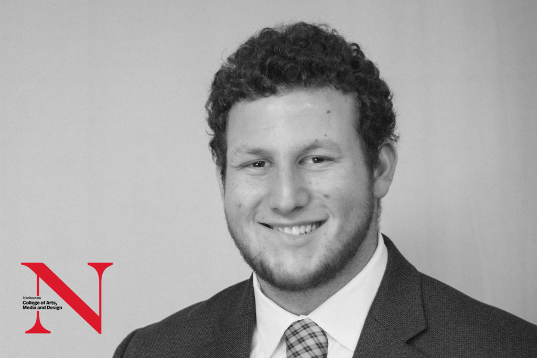 Zack Richmond is a Music Industry student who interned with Universal Pictures in the Film Music Department, on the Music Publishing team; this team is responsible for maintaining and managing the rights of music assets owned by the film studio. After moving online, Zack was still been able to stay in close contact with his team and maintain productive workflows, despite some typical working-from-home challenges like time differences.
"The Film Music Team has stayed very connected and overall has been able to keep up our workflow and productivity to the same standard as when we were all in the office. Luckily, I am able to do almost all of my responsibilities from my home computer so the switch to working from home has not been too bad," explained Zack. "My main change in my job has been my hours. Before, when in the office, I was working three days per week, eight hours per day. Now, I have shifted to working shorter days over the course of the entire week while still keeping my set weekly hours the same. I have enjoyed this shift as I feel even more in touch with the daily tasks of the team despite not being directly in the office…I love the work I have been doing and my team has been great at keeping morale up and really instilling the point that we are all doing this together and will get through it!"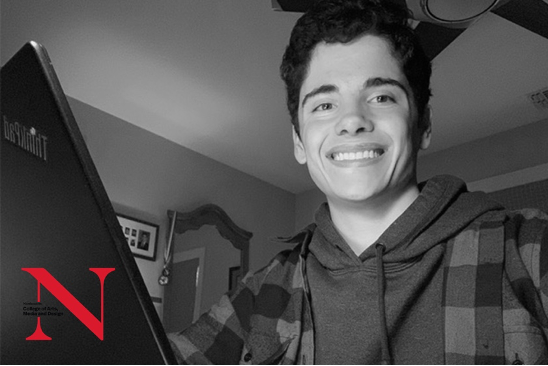 Nolan Piccola, a second year Journalism student, spent his first co-op working for Takeda Oncology, a biopharmaceutical company based in Cambridge, Massachusetts. He served as the company's Communications and Social Media Co-op and was able to adjust to working from home – where he got his work done alongside his family and dog. His role consisted of drafting internal communication for the company, as well as assisting with the creation of press releases for any upcoming trials or data presentations. He also worked on some external communication as well, assisting in the creation of social media posts for Takeda Oncology's social media channels.
"For the most part, my co-op has generally stayed the same in terms of my responsibilities. My supervisors have been very understanding of the situation and have given me a lot of support as my co-op transitioned to remote work. I would say the biggest change is just the environment I am completing my co-op in – instead of sitting in an office for eight hours I am now at home with my family, completing work with my dog by my side! I'd say what I love the most about working remote is home-cooked meals after a day of work," Nolan said. "During this difficult time, I would say what keeps me motivated is knowing that I am not alone throughout this process. All of my friends at Northeastern and at home are all going through a similar predicament, so being able to speak with them every day about what we're all going through has helped ease my mind and show me that we're all going through this process together."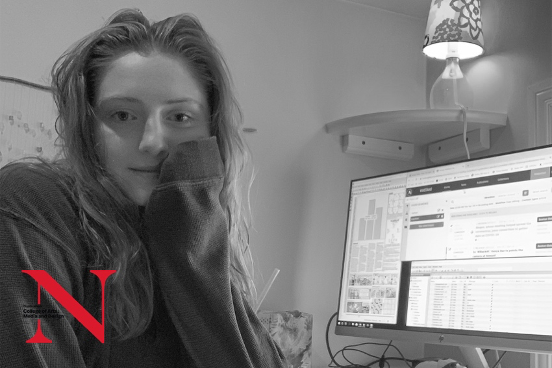 Northeastern student Rowan Van Lare spent the spring semester as an Editorial Co-op at The Boston Globe, where she served as a night editor – copyediting as articles are written and formatting them to fit into the paper. After that process, at the end of each night, she read through the newspaper to ensure there were no typos. When she moved online, Rowan's responsibilities did not change too drastically, and she was still able to edit effectively– although getting up-to-speed on some new responsibilities was challenging.
"My responsibilities have lightened a little bit," said Rowan. "On the editing front, I was going to be taught how to do new responsibilities as I continued to do the job, but that has become a lot harder. Besides that, my job hasn't changed – although I have to read the paper online at the end of the night now.  I'd also begun to write articles for Boston.com. I got one article published, but the other articles I've been working on have gotten put on hold, at least for now."
"Staying motivated has been incredibly difficult…" Rowan continued. "I've found that reading things I enjoy has been helpful. While my whole job involves close-reading, it also involves staring at a computer screen. I use breaks to rest my eyes from that, which has helped me focus better when I'm actually working."
Looking Forward
As Northeastern University – along with higher education institutions across the country – implement their plans for the fall semester, many uncertainties still remain. The COVID-19 pandemic will continue to impact the way students learn and embrace experiential education. What the spring and summer have showed us, however, is that creativity, flexibility, and innovation will help ensure a productive and meaningful academic year ahead.